Ralph's Italian Ices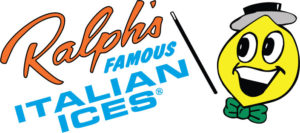 3 LOCATIONS – 10% DISCOUNT
Ralph's Italian Ices
1077-L RT 34
Aberdeen, NJ 07747
Directions | Website
OFFER: 10% DISCOUNT
Phone: 732) 566-2250
——————————-
Ralph's Italian Ices
1729 Union Ave
Hazlet, NJ 07730
Directions | Website
OFFER: 10% DISCOUNT
Phone: 732) 335-5559
—————————
Ralph's Italian Ices
607 Newman Springs Rd
Lincroft, NJ 07738
Directions | Website
OFFER: 10% DISCOUNT
Phone: (732) 219-9292
---
Ralph's Famous Italian Ices have been famous for 85 years. How they became famous is a story that's been passed down through our family…
Our grandfather, Ralph Silvestro, came to the United States from Italy when he was a young man. In 1928, he began making what would turn out to be his famous Italian Ices and sold them throughout Staten Island. His treats became a summertime favorite and he opened his first retail location in 1949 on Port Richmond Ave.
By 1966, Ralph was ready to retire and his two daughters, Lucile and Elise, continued the family business. This next generation started to create new flavors, always using the finest ingredients available in order to maintain Grandpa's high standards.
Eventually, Ralph's grandsons – that's us! – began working in the store. People traveled from all over to try our ices and to take a pint home. In the late 1980's we started delivering our Italian Ices to locations outside Staten Island so people could enjoy a real Italian Ice. In 2001, locations in all five boroughs, Long Island and New Jersey joined the Ralph's Franchise program and became Ralph's Famous Italian Ice stores. With over 100 flavors, you can still get the quality ices that Grandpa started making almost a century ago – including the original Orange and Lemon flavors that have remained unchanged since the beginning.
Thanks for making Ralph's part of your summer, for the last 85 summers.