Bensi of Old Bridge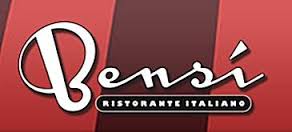 Bensi of Old Bridge 
3899 Route 9 South
Old Bridge, NJ 08857
Directions | Website
497-527 Texas Road address for GPS and Google Maps

OFFER: 15% DISCOUNT
Exclusions – alcohol, holidays, parties
(Not valid at other locations)

Hours:
Sunday-Thursday 11:00 am – 11:00 pm
Friday-Saturday 11:00 am – 12:00 am
Phone: 732-970-0010
It all began many years ago in Calabria, Italy in the family kitchens of Bensi founders John Osso and Mario Bernardo.
That's where they learned that great food – the kind of food that makes you "mangia like you mean it" – is made from just two things: the freshest ingredients and love
John and Mario remembered those lessons well. In 1983, they opened a small pizzeria in Tenafly, New Jersey where they served American families delicious, made-fresh-to-order dishes, using only the finest ingredients, just like the food their own families enjoyed back in Italy.
That little pizzeria grew into one of the community's finest and busiest Italian restaurants and is "The Original Bensi." Now, John and Mario's cherished concept of "Always Fresh, All Ways Italian" has spread across New Jersey and Pennsylvania with 24 restaurants either currently open or under development.
"Made fresh to order" is a very demanding process, requiring commitment and dedication at every level. That's why a head chef and general manager, both co-owners, run each Bensi restaurant. They have a vested interest in the success of their establishment and embrace the "Bensi Way" of serving the freshest and tastiest Italian dishes in a casual, attractive environment. Even though each restaurant uses similar ingredients and preparation techniques, they all have their own individual styles and unique flavors.
Finally, you can always depend on the friendly and attentive staff to make your dining experience a pleasure and, most importantly, to serve food that is "Always Fresh, All Ways Italian." Welcome!