Bubba's 33 – Old Bridge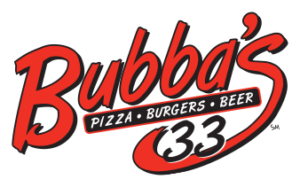 Bubba's 33 – Old Bridge
1002 Hwy. 9
Parlin, NJ 08859
Directions | Website
OFFER: 10% DISCOUNT

Hours:
MON-THU: 4:00PM-12:00AM
FRI-SAT: 11:00AM-12:00AM
SUN: 11:00AM-11:00PM
Phone: 732-721-0860
ABOUT BUBBA'S 33
At Bubba's 33, there's food for all. Bold Burgers, hand-tossed Pizza, mouth-watering Wings, "delish" Dinners, and so much more… all made from scratch.
So what's with our name? Our founder is nicknamed Bubba, and 33 symbolizes a way of life. Prohibition ended in 1933 and people took to the streets to celebrate. We're still celebrating today with scratch food, ice-cold beer, and signature drinks.
2 IN 1
At Bubba's 33 you get the best of both worlds. Bubba's 33 features a family dining section and a garage bar. Whether you're meeting up with co-workers for happy hour or getting the Little League team together, Bubba's 33 is the place to be.
WALL-TO-WALL TVS
When you walk in the doors of Bubba's 33 you know you're at a place with some character. No matter where you sit, you have a front-row seat. The walls are lined with TVs, sports jerseys, neons, and other local flair!
BUBBA'S 33 GOT FRIENDS IN "TEXAS"
Bubba's 33 was created in 2013 by Kent Taylor, Founder of Texas Roadhouse restaurants. Kent's vision was to create a restaurant where families, friends, and sports teams could gather to enjoy a lively atmosphere without sacrificing quality food. Bubba's 33 is just that – a place for all things American – food, family, sports, and beer!