Denny's Childrenswear- MARLBORO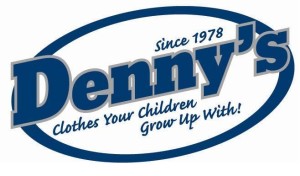 Denny's Childrenswear

OFFER: *ADDITIONAL 10% OFF OUR ALREADY DISCOUNTED PRICES.
(not valid on items discounted 30% or more).
CAN NOT BE COMBINED / SOME EXCEPTIONS MAY APPLY
Hours:
Monday-Saturday 10:00am-6:00pm
Sunday 11:00am-5:00pm
We have the latest Kids Fashion Trends, Children's Clothes, Girls Dresses, Boys Outfits & Styles For All!
Denny's: A Clothing Store and So Much More
Whether you're seeking the very latest trends in back-to-school fashions for your kids, or more basic items such as sleepwear or playwear, Denny's is the place to go.
A family run business, that has been servicing families for over 40 years. Denny's offers the latest styles and greatest value in clothing, such as sleepwear and accessories for newborns and toddlers to 'tweens-and everyone in between. You'll find a huge selection of brand-name and one-of-a kind creations.
Aside from our flagship store in Plainview, NY the convenience of eleven other locations-in NY, NJ and FL combined with discounted prices on most brands makes shopping at Denny's hard to resist.
The Denny's sales team prides itself on offering customers one-on-one service starting with moms-to-be through kids going off to camp. Denny's knowledgeable salespeople are familiar with all the manufacturers, including the fabrics and sizing. You can make a one-on­-one appointment or walk in one of our stores and a friendly sales associate will help you assemble a whole wardrobe, right down to the underwear and socks.
Each spring, Denny's camp department kicks into full gear. Campers and their parents are personally guided through a list of necessities they can purchase at discounted prices. At Denny's it's more than just clothing: From trunks and duffels to sheets and towels, kids will find the latest and greatest camping accessories to make their summer extra­ special. Check out the camp checklist and feel free to call us with any questions!
Select Denny's locations also have a layette department that is described as a "store within a store." Moms-to-be can work with Denny's knowledgeable layette specialists to ensure they're fully prepared for their upcoming arrival. They receive a suggested list of the items they'll need based on recommendations from manufacturers – and from other Denny's moms. Our specialists will help you pick out everything you need for a boy or a girl—or both, if you don't know the sex. Our staffs job is to hold the expectant mom's hand and guide her through the entire process. Leave a small deposit, and Denny's will put everything aside for you until your baby is born. Call us if you have any questions.
With sizing that starts with newborns and goes up to junior for girls and young mens for boys, Denny's is the store your children can grow up with.