El-Co Color Labs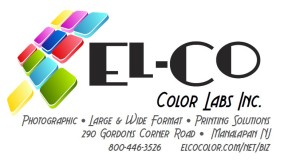 El-Co Color Labs
290 Gordons Corner Road
Manalapan, NJ 07726
Directions | Website
OFFER: 15% DISCOUNT (all printing services)

Hours:
Store Front: Monday – Friday 10am to 6pm
Production: Monday – Friday 7:30am to 6:30PM
We are Closed Saturday & Sunday

Phone: Local: 732-536-1808 Toll Free: 800-446-3526
Fax: 732-536-5612
El-Co Color Labs has been in business since 1971. The entire staff collectively has over 147 years of experience. Our laboratory is unique in that, it is operated by photographers for photographers. Our quality, attention to detail and color management is of the utmost priority because as photographers, we know and understand what our clients expect.
El-Co Color Labs has managed to evolve within the ever changing photographic industry which has been proven by our longevity. Our lab is currently the creative outlet for many professional and commercial photographers and artists worldwide. The service and products we offer are of the highest quality, with limitless variety available.
If you can imagine it, we can create it! Our personalized customer service makes each product unique to the artist or photographer. Our goal each and every day is a completely satisfied client.