Justin's Barbershop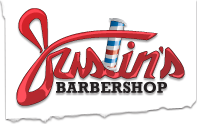 *2 LOCATIONS*

OFFER: 50% discount off paid in full memberships and monthly memberships
Not to be combined with any other offer. Offer only valid for clients without a Justin's Barbershop ® Membership. Not valid for children and senior haircuts. Not valid for retail products, merchandise, or gift certificates.
Justin's Barber Shop – MANALAPAN
130 Route 33(Andee Plaza)
Manalapan, NJ 07726
Directions | Website
Hours:
Mon 10 am – 6 pm
Tues 9 am – 7 pm
Wed-Fri: 9 am – 8 pm
Sat 9 am – 5 pm
Sun 11am – 4 pm
Phone: (732) 866-4331
Justin's Barber Shop – JACKSON
10 S. New Prospect Rd (Romeo's Plaza)
Jackson, NJ 08527
Directions | Website
Hours:
Mon 11 am – 5 pm
Tues 11 am – 8 pm
Wed 9 am – 8 pm
Thurs 11 am – 8 pm
Fri 9 am – 7 pm
Sat 9 am – 5 pm
Sun 10 am – 3 pm (walk in only, first come first served)
Phone: (732) 901-8887
Justin's Story
Justin, the founder of Justin's Barbershop®, acquired a passion for cutting hair at an early age. One summer day, a friend of his complained about how disappointed he was with his haircut. At just 13 years old, Justin picked up the clippers and intuitively repaired his friend's haircut. That was the day he gained his first client! Word spread amongst all of his friends that he had a knack for cutting hair. He set up a barber chair in his parents' garage and his clientele base quickly began to grow.
Justin continued to develop his skills as best as he could, but knew he needed to further enrich his talent to really stand out in the field. He enrolled in cosmetology school and launched his career working in a barber shop in Lakewood, New Jersey. While working in the barber shop he developed the necessary skills and techniques to provide a level of quality that impresses more than just his group of high school friends.
Armed with a well-rounded skill set and a vision of one day owning his own barber shop, Justin took action. Turning his dream into a reality, he opened his first Justin's Barbershop® in Jackson, New Jersey.
Justin's Grows!
While Justin's dream of owning his own shop was fulfilled, his brother saw the potential for further growth. With a strong belief in Justin's expertise in the barber industry, his brother utilized his expertise in business to support Justin and further expand on his vision. In 2007, they became partners and opened a second location in Manalapan, New Jersey. Since 2011 the brothers opened 3 more Justin's Barbershop® locations in New Jersey.
Further Expansion and Future Goals
Since then, the brand has surpassed all early expectations and goals. Justin's Barbershop® has become a thriving, well-known and trusted trademark. While developing their own successful locations, the brothers built a strong business model with effective training systems, which allows them to expand on an even larger scale.