Krispy Pizza -Old Bridge/Freehold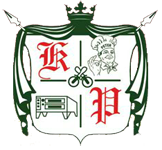 Krispy Pizza – OLD BRIDGE
2323 Route 516
Old Bridge, NJ 08857
Directions | Website
OFFER: 10% DISCOUNT

Hours: Sunday: 12pm-10pm
Monday-Thursday: 11am-10pm
Friday-Saturday: 11am-11pm
Phone: (732) 679-9600
————————————————-
Krispy Pizza – FREEHOLD
136 Schanck Rd
Freehold, NJ 07728
Directions | Website
OFFER: 10% DISCOUNT
$10 MINIMUM
Not valid for delivery orders.
Hours: Sunday: 12pm-10pm
Monday-Thursday: 11am-10pm
Friday-Saturday: 11am-11pm
Phone: 732-303-0081
The Best Pizza in NYC Comes to Old Bridge and Freehold!
New Yorkers are tough critics especially when it comes to their pizza. So when Krispy Pizza won the "Battle of the Borough" (featuring pizza from all 5 boroughs and Long island) at the New York Pizza Expo 2005, a clear message was sent, Krispy Pizza is the best. Brothers Vinny, Tony, Freddy and Al grew up in this familyrun business started by their dad over 40 years ago in Dyker Heights, Brooklyn where the Krispy Pizzeria is legendary. Freddy and Al still run the Brooklyn pizzeria while Vinny and Tony have opened a new Krispy Pizzeria in the Jake Brown Plaza Shopping Center in Old Bridge, New Jersey. Not surprisingly, Vinny and Tony often hear customers (former Brooklynites) sing the praises of the pizza they remember as kids living in Brooklyn. Topping the list of 15 varieties of pizza is their specialty pie, Grandma's Pizza, a thin crust Sicilian with fresh mozzarella, fresh tomatoes, extra virgin olive oil and just the right touch of basil. There's also, to name but three, a fabulous fresh mozzarella pie, scrumptious bruschetta squares and a mean chicken parmesan pie. Diners can also satisfy their palates with a wide variety of Italian favorites including mouth watering hot heroes, awesome rice balls and so much more.
Continuing the tradition of serving great food in a warm atmosphere for generations of pizza lovers is what it is all about for these brothers and they wouldn't have it any other way. So stop by for the best pizza in NYC and more!