La Cipollina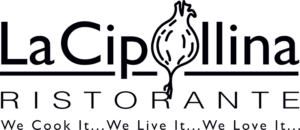 La Cipollina
16 W Main St A
Freehold, NJ 07728
Directions | Website
OFFER: 10% DISCOUNT
Hours: Tuesday to Saturday – 5pm-11pm
Sunday – 1pm-11pm
Mondays & lunch – Generally we are closed on Mondays & for lunch, however, we will open for private events and for reservations of 10 persons or more
Phone: 732-308-3830
About Us
Circa 1988
Anthony Braica established La Cipollina three decades ago. The central goal was to create a team of exceptional characters with unmatched work ethic, refinement, and ability to provide customers with an experience of unparalleled quality and service, focusing on authentic Italian cuisine with a fresh, flavorful, artistic approach. We have evolved from a restaurant into a unique family with the ambition and aptitude to realize that goal.
Over the years, the La Cipollina family has had the honor of catering to a diverse clientele. This includes world leaders like President Clinton, celebrities such as Martin Scorcese, Joe Pesci, and Robert De Niro, and legends like Frank Sinatra and Joe DiMaggio; however, we realize that our most important guests are those loyal customers that have truly become extended family.
Our motto is "We Cook It, We Live It, We Love It," and it is a justified description of how we function. La Cipollina operates its own seasonal organic garden that is a stone's throw from its kitchen. Executive chef Matt Higgins incorporates diverse ingredients like Thai basil, pea shoots, chanterelles, varieties of peppers and tomatoes layering locally produced flavor into every bite of our meticulously-developed, distinctive menus.