Moe's Southwest Grill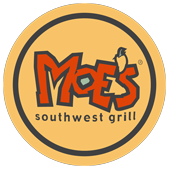 OFFER: 10% DISCOUNT – 2 locations
Moe's Southwest Grill – EAST BRUNSWICK
326 SR-18
East Brunswick, NJ 08816
Directions | Website
Hours: Sun-Thur 10:30-9pm
Fri-Sat: 10:30am-10pm
Phone: (732) 955-6779
————————————–
Moe's Southwest Grill – NORTH BRUNSWICK
Commerce Center
2431 Route 1 South
North Brunswick, NJ 08902
Directions | Website
Hours: Sun-Thur 10:30-9pm
Fri-Sat: 10:30am-10pm
Phone: (732) 297-6637
Welcome to Moe's!
We provide fresh, hand-made, customizable Southwestern food in a welcoming environment that rocks!
Welcome to the best southwestern food you've ever put in your face. Welcome to an atmosphere that says 'you be you, we're cool with that…'
Find out more about us, our menu, locations and catering at www.moes.com.