Molino's Italian Kitchen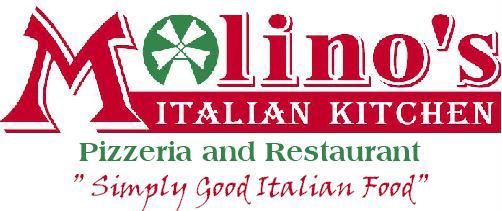 Molino's Italian Kitchen
300 Gordon's Corner Road
Manalapan, NJ 07726
Directions | Website
OFFER: 15% Discount – Sun-Thursday (Excludes holidays) Dining Room Only

Hours:
Monday 11:00 am – 10:00 pm
Tuesday 11:00 am – 10:00 pm
Wednesday 11:00 am – 10:00 pm
Thursday 11:00 am – 10:00 pm
Friday 11:00 am – 11:00 pm
Saturday 11:00 am – 11:00 pm
Sunday 12:00 – 9:00 pm

Phone: (732) 972-1180
Alfonso Molino, the owner of Molino's Italian Kitchen, was born and raised in Brooklyn, in a neighborhood rich with the Italian-American culture and values.
At the age of 7, Alfonso's parents opened up a small Pizzeria there, and shortly after that (at the age of 10 and after school,) he began to make pizzas in the family business marveling customers with his culinary skills at such an early age.
When his parents separated, Alfonso, needing to help out with the family's struggling finances, began working in many pizza parlors throughout the city. Almost every day after school hours, he would go straight to work until late in the night. After graduating he decided to open his first place in upstate New York. From there he moved on to open several successful places in Florida, with one in particular named after him: Alfonso's Italian Restaurant in the beautiful coastal town of Stuart.
There is an inexplicable draw within most of us to return to the place where we were born and raised, and missing his roots, Alfonso came back to New York. Wanting to try other professions, Alfonso began working on Wall Street. Not liking the sterility of such a business, he sought and gained employment in the food wholesale business, working for two of the largest food distributors in the country, targeting dozens of the city's restaurants and pizzerias. He excelled in such a business and gained much experience from the wholesale end of the food business. Getting married in 2002, he decided to get back in, or as he says, "sucked me back in," in the type of business that has always fascinated him: the purchase and management of his own restaurant.
One day, while driving in New Jersey, he found a place in the Yorktowne shopping center in Manalapan N.J. named Romeo's that was for sale. Seeing the location potential, and with the moral support of his wife, decided to buy it.
In the beginning it was tough, but once Alfonso started using everything he had gained and learned from being an ingenious chef, experienced and innovative pizza maker and wholesaler, the business began to move in the right direction. "Inevitably, the success of a restaurant boils down to one simple precept….people really appreciate quality food," Alfonso says. His motto has always been, cooking is not hard, all you need is the love of it, using the best products on the market and putting them together creating "SIMPLY GOOD ITALIAN FOOD."
Alfonso's father is a native of Naples, where pizza-making has, for almost two centuries, been the local artistic culinary pursuit. In that city in the late 1800's, a local pizza maker created the "Pizza Margherita" in honor of the visiting Queen Margherita of the royal house of Savoy. Adding cheese for the first time to pizzas, he garnished it with tomatoes, mozzarella cheese and basil, reflecting the colors of Italy's new flag of red, white and green.
This simple dish is one of Molino's Italian Kitchen most popular and savory offerings, carrying on the long tradition of utilizing quality ingredients to make great tasting foods for the discerning palates.