Bella Italia Pork Store – Freehold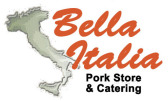 Bella Italia Pork Store – Freehold
843 Business 33
Freehold, NJ 07728
Directions | Website

OFFER: $5 OFF $30 OR MORE

Hours: Monday – Friday 09:00 AM – 07:00 PM
Saturday 09:00 AM – 06:00 PM
Sunday 09:00 AM – 04:00 PM

Phone: 732-252-8455
Family Owned and Operated
The Bella Italia Mission:
John and Joe – formerly of Bella Italia Pork Store & Catering in Monroe – strive to provide their customers with exceptional food products and Italian specialties. Customers enjoy their homemade prepared food, signature pannini's, wraps and subs, fresh baked breads, full line of butcher department and grocery items, desserts & cannoli, fresh mozzarella, gourmet cooking ingredients, and imported Italian items. Bella Italia runs weekly specials, and offering a full catering menu serving all occasions for parties of any sizes. We cater and deliver to corporate and private parties in Ocean and Monmouth Counties.
What makes Bella Italia of Freehold stand out from all the rest? It's all about quality food, exceptional customer service, and family tradition. You'll understand once you visit their store. To John and Joe, it's not just about who's next in line. They get to know their customers personally! They are proud of the recognition they have received from the community, and look forward to serving you!