Aunt Butchies – Marlboro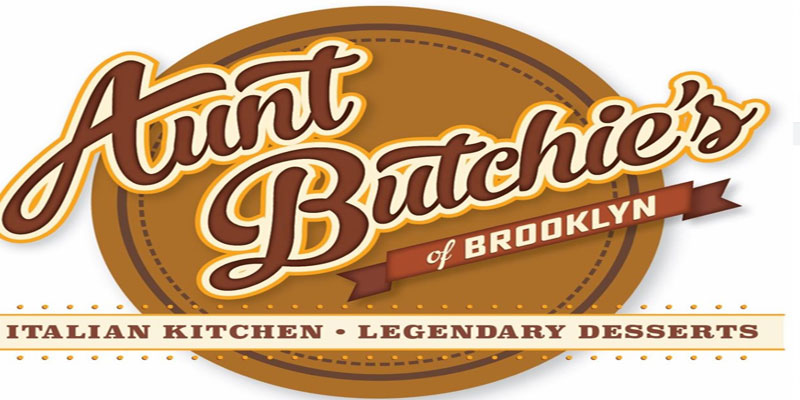 Aunt Butchies Marlboro
430 US Highway 9 North
Englishtown, NJ 07726
Directions | Website

OFFER: 10% DISCOUNT
(NO DISCOUNTS ON CHECKS $250+)
Can not be combined with any other offers, promotional menus or discounted gift cards.
Hours:
 Mon – CLOSED
Thurs – Sun 11am – 9pm
Phone: 732-851-6626
Aunt Butchie's Desserts started in 1992 in a small room above Armani's Restaurant on Hylan Boulevard, Staten Island. The dream was to take family dessert recipes and share them with neighborhood restaurants. To satisfy the overwhelming demand, they moved to their current location in the Dyker Heights section of Brooklyn, New York, on the corner of 69 th Street and 13 th Avenue.
There, a state of the art baking facility was established, yet still keeping the family touch. Irene Santo, aka "Aunt Butchie", and her son Frank, in spite of their success, insist on overseeing all aspects of the day to day operation, ensuring only the finest ingredients and highest standards are met with every dessert sold.
For more than 20 years, Aunt Butchie's family-owned bakery has served up mouth- watering, Legendary Desserts such as Cheesecakes, Mousse cakes, Caramel Cones, Tartufos, and more to restaurants and consumers throughout the New York Tri-state area. It is this attention to quality that has helped Aunt Butchie's grow beyond the original Brooklyn, NY flagship store and extended the business to a small Cafe/Restaurant on Staten Island, 4864 Arthur Kill Road. Frank Santo joined forces with Chef Pete Marcolini, Joseph Pernice and Joseph Marcolini to share their family traditions and delicious recipes with consumers on Staten Island.
Aunt Butchie's of Brooklyn Restaurant, Bar, Bakery & Café opened its doors to the residents of Staten Island on January 24, 2011. Since then, customers have been coming in to enjoy not only gourmet desserts and coffees but full course lunch and dinner menus. Aunt Butchie's is the home of the famous Stuffed Meatball, Osso Buco Tortellini and Old World Tripe. Customers eagerly anticipate Seasonal Specialty Dishes, using only the finest ingredients and the freshest foods.
The owners of Aunt Butchie's of Brooklyn, Italian Kitchen & Legendary Desserts decided to bring their concept to a new location in Marlboro, New Jersey located at 430 Route 9 North. The concept for this restaurant is to create the same family-oriented atmosphere as is offered in the Staten Island location. The vision for this location is based solely on renovating an existing space into something new and fresh. This restaurant is designed with love while incorporating rich, rustic materials balanced with sleek, clean, contemporary elements.
Aunt Butchie's looks forward to establishing new relationships in this location and enticing consumers to enjoy this "Home Away From Home" concept. This old world with a twist of contemporary concept channels through every aspect of the restaurant, from the decor to the recipes.