Brothers Pizza & Restaurant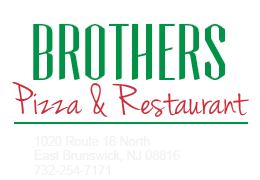 Brothers Pizza & Restaurant
1020 Highway 18
East Brunswick, NJ 08816
Directions | Website

OFFER: 10% or
20% on order $50+

Hours: 10:30am – 9pm
Phone: 732-254-7171
Family Owned and Operated Since 1979

Brothers Pizza & Restaurant is conveniently located on Route 18 North in East Brunswick. We serve the East Brunswick, Old Bridge, Spotswood, and surrounding communities.
At Brothers Pizza East Brunswick, we use only the finest and freshest ingredients and prepare all of our dishes and pizzas to order! Everything is made with love from our family to yours.
Come visit our dine-in restaurant, conveniently located at 1020 Route 18 North, or take your meal home with you. We also deliver, Monday through Friday, from 11 am to 4 pm.
We are happy to accept payment in the form of Mastercard, Visa, Discover, and Amex, with a fee.
Call 732-254-7171 to place your order.
Come and taste the best pizza East Brunswick has to offer! Buon Appetito!