Bury The Hatchet – Old Bridge/Matawan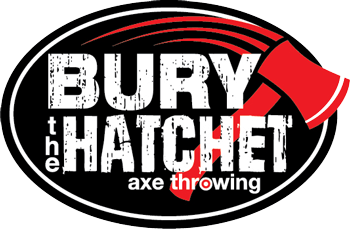 Bury The Hatchet – Old Bridge/Matawan
419 Route 34
Matawan, NJ 07747
Directions | Website

OFFER: 10% DISCOUNT

Hours: 
Mon-Thur: 12pm-11:30pm
Fri-12pm-12:30am
Sat: 10am-12:30am
Sun. 10am-11:30pm
Phone: 732-962-6284
Email: burythehatchetob@gmail.com
Experience the thrill of Axe Throwing in Old Bridge NJ. Bury The Hatchet is your go to destination if you're looking for a good time. Axe throwing is the #1 choice for corporate events, team building, birthday parties and bachelorette parties in Matawan and Old Bridge NJ.
Our axe throwing masters in Matawan/Old Bridge will teach you how to throw an axe and help improve your technique so you can play like a PRO! Play with friends or ask about our team tournaments – either way you won't be disappointed!
Our indoor axe throwing range in Matawan/Old Bridge NJ is located in The Market Place In the old Marty shoes building. Large parking lot available for customers.