ICHIBAN 18 Asian Cuisine – East Brunswick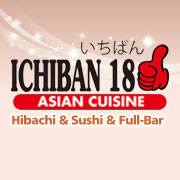 ICHIBAN 18 ASIAN CUISINE
1020A Route 18
East Brunswick, NJ 08816
Directions | Website
OFFER: 10% DISCOUNT – MAXIMUM $20 SAVINGS
(MONDAY-THURSDAY ONLY)
OFFER CANNOT BE COMBINED WITH OTHER DISCOUNTS/OFFERS
Excludes holidays

Hours: Lunch
Mon. – Fri. 11:00 am – 3:00 pm
Sat. 12:00 pm – 3:00 pm
Dinner
Mon. – Thurs.: 3:00 pm – 10:00 pm
Fri. – Sat.: 3:00 pm – 11:00 pm
Sunday All Day Dinner 12:00 pm – 10:00 pm
Phone: (732) 390-0077
Welcome
TO ICHIBAN 18 ASIAN CUISINE
Located at 1020A Route 18, East Brunswick, NJ 08816, our restaurant offers a wide array of authentic Japanese, Chinese & Thai Food, such as Tempura Vegetable, Katsu Chicken, Hibachi Steak, Avocado Cucumber Roll, General Tso's Chicken, Pad Thai, & etc.
Try our delicious food and service today. Come in for an Asian Lunch Special or during evenings for a delicious Asian style dinner.
If you have any suggestion to our food or service, please go to the customer feedback page and leave us your suggestion or review. We will respond to your suggestion as soon as possible.