Image Makers Salon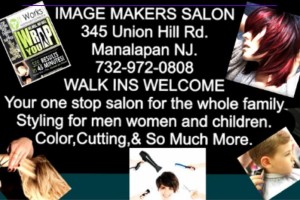 Image Makers Salon
345 Union Hill Road
Manalapan, NJ 07726
Directions
|
Website
.

OFFER: 10% DISCOUNT (ALL SERVICES)
SELECT STYLISTS – (Tuesday, Wednesday and Thursday ONLY)
.

Hours:
Tue: 10:00 am – 4:00 pm
Wed: 10:00 am – 4:00 pm
Thu: 9:00 am – 8:00 pm
Fri: 9:00 am – 8:00 pm
Sat: 9:00 am – 4:00 pm

Phone:
(732) 972-0808
.
We're a full-service beauty salon dedicated to making you feel and look your very best. Whether you're looking for a simple haircut or for complete renewal, we have a wide range of creative hair services. Our goal is to give you exactly what you want and the undivided attention you deserve.Our experienced professionals use the latest technologies. Each and every hair stylist has extensive training and truly loves this industry. We love nothing more than helping you realize how great your hair can be.
We're passionate about building long-term relationships with our clients through our skilled and knowledgeable staff. We achieve this by providing an extraordinary client experience and excellent customer service in a relaxing environment.