Mazzola Bakery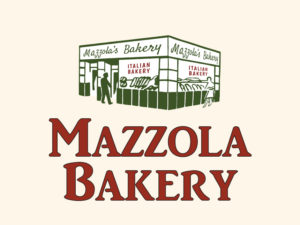 Mazzola Bakery
357 Route 9 South
Manalapan, NJ 07726
Directions | Website
OFFER: 10% DISCOUNT

Hours: MON-SAT: 7:30-8:00 PM
Sunday: 7:30am – 2pm
Phone: 848-233-9595
Mazzola Bakery's Recipe for Success
A taste of the past that will keep customers coming back in the future.
Authentic recipes from Palermo, Italy, and generations of dedication and hard work continue to be the recipe for success at the more than 80-year-old Mazzola's Bakery.
Authentic homemade breads, baked goods, and other specialties highlight the menu at the family-owned and operated establishment in the heart of Carroll Gardens.
Still in its original building at 192 Union Street, the bakery was established by Nicolo Mazzola in the year 1928.
For over 50 years, he and his sons, Peter, Dominick, Angelo, and Benny, grew the business by offering customers traditional Italian bread from his home town of Palermo.
It was in 1980 that the bakery was purchased by the Caravello Family, with patriarch Francesco then at the helm.
Originally a barber, he successfully transitioned to the bakery business, and, some 36 years later the bakery continues to thrive and prosper as a neighborhood gem that draws dedicated customers from far and wide.
Customers who have moved out of the neighborhood frequently return for a taste of their past.
Although it has expanded its menu to include some new bread and baked goods, as well as coffee and breakfast items, the bakery continues to offer its famous lard bread – homemade with genoa salami, provolone cheese, black pepper, and lard – using the same recipe created by original owner Nicolo Mazzola nearly 90 years ago.
Today, Caravello's children, Josephine, Frank, and Anthony, have taken the reigns of the family-owned establishment. Continuing the family tradition, the Caravellos, along with John Mazzola, grandson of Nicolo Mazzola, are poised to open a second location in Manalapan, N.J., where demand from former Brooklynites is thriving.
The two generations of families intend to bring homemade breads and specialty items to the New Jersey area where they will establish new roots and take the bakery into the next century with the same commitment to customer service and dedication to family traditions.