Peter's Fishery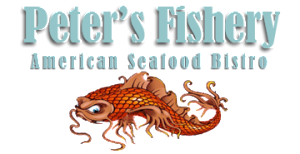 Peter's Fishery
921 NJ-34
Matawan, NJ 07747
Directions | Website
OFFER: 10% DISCOUNT

Hours:
Sunday-Thursday 9:00 am – 9:00 pm
Friday-Saturday 9:00 am – 10:00 pm
Phone: 732-583-5666
Little Fish Tale About Us…
Now that's what we call enjoying the best of Jersey seafood! Whether your family comes together over a big plate of our famous crab cakes or you're celebrating life's special moments, Peter's Fishery is undoubtedly New Jersey's go-to restaurant for top-of-the-line seafood.
Peter and his son purchased the restaurant in 2000 and transformed the restaurant to what it is today. Specializing in European-style seafood, Peter's Fishery focuses on quality and service; you can be sure to be treated like family here. To maintain its leadership position in casual dining, Peter's Fishery's most varied and mouthwatering selection of food is complemented by an all-new, attractive atmosphere where guests will always feel at home.
This is a restaurant where you can be sure to feel comfortable enough to laugh out loud or pass a savory plate of fried calamari around the table. Its architecture takes on a new life, and a plain box with paper plates from the old days of casual dining has now evolved into the bright, open feel of the New Jersey family restaurant that you see today.  Even as Peter's Fishery continues to change and grow, some things always remain the same: the magic of indulging in our all-you-can-eat crab legs, the sweet taste of fresh Maine lobsters dipped in butter, and the heart-warming sound of laughter ringing everywhere amidst the restaurant.