Sundaes Ice Cream Palace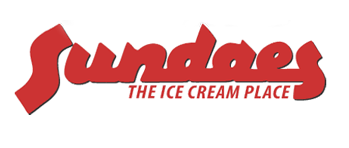 ALL LOCATIONS:
OFFER: 15% OFF – cones, cups, shakes and sundaes
$1 off cakes and frozen novelties
Sundaes Ice Cream Palace 
1059 Highway 34
Aberdeen, NJ 07747
Directions | Website
Hours:
Sunday – Thursday – 9:30 AM – 10:00 PM
Friday and Saturday – 9:30 AM – 11:00 PM
Phone: 732-566-0919
Sundaes Ice Cream Palace – Point Pleasant
3217 Route 88
Point Pleasant, NJ 08742
Directions | Website
Hours: Summer Hours 9:30 AM – 11:00 PM
Phone: 732-892-6464
Sundaes Ice Cream Palace – Tom's River
324 Atlantic City Blvd
South Toms River, NJ 08757
Directions | Website
Hours: Summer Hours 9:30 AM – 11:00 PM
Phone: 732-349-6556
Sundaes Ice Cream Palace – Manasquan
2211 Highway 35
Manasquan, NJ 08736
Directions | Website
Hours: Summer Hours 9:30 AM – 11:00 PM
Phone: 732-223-9555


OFFER: 15% OFF – cones, cups, shakes and sundaes
$1 off cakes and frozen novelties


ICE CREAM IS THE HAPPY THING
At one time, the Sundaes location on Rt. 88 in Point Pleasant was a Carvel that was owned by Richard Soldo. His son, Rich Soldo Jr. took over the shop in 1986 and called it Sundaes The Ice Cream Place.
In January 2002, the second Sundaes location was erected in South Toms River and that's where the magic happens. The Toms River store is where our homemade ice cream and Italian ice flavors are made.
Sundaes has always been family owned and operated. We've been proud to serve Ocean County for over 17 years. Here at Sundaes we believe in friendly, old fashion service, quality products, and a reasonable price.